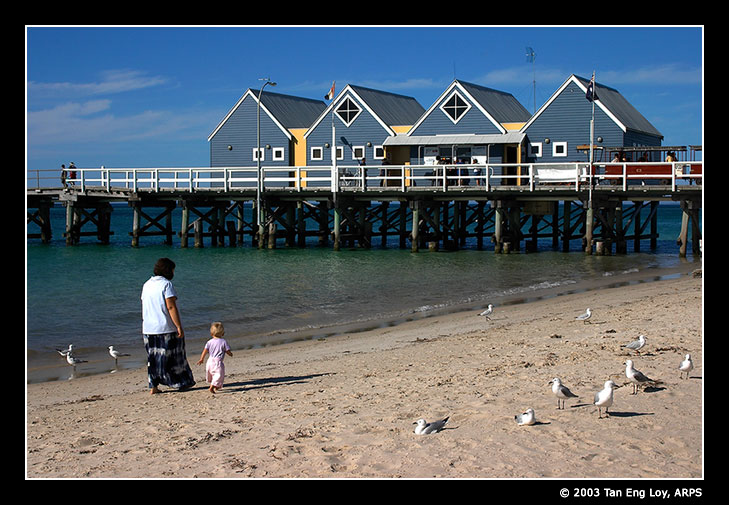 This photoblog actually started out as a "Featured Photos" page on LiveJournal almost a year ago in December 2003. I decided to migrate it to Blogger recently after Blogger's features were upgraded after it was bought over by Google. Since the migration, I have been working behind the scenes to migrate the old entries from LiveJournal over to this new format. In the meantime, here's a picture from the past which I personally like very much and which was featured as one of the very first entries of my old photoblog.


This is one of my recent favourite shots taken at the Busselton jetty in Western Australia. This jetty is the longest jetty in the Southern Hemisphere, extending 2km from the shore into the sea. Brilliant sunshine and weather meant that many people were enjoying themselves by the beach. Even the seagulls were enjoying the sun! Caught this moment of a mother and child strolling by the jetty. I love the shadows cast by the mother and child as well as the running action of the kid, which gave some dynamism to their profiles.

Exposure information: ISO 200, Shutter speed: 1/320 seconds, Aperture: f/18.0, 35mm effective FL: 62mm. Metering mode: Centre Weighted Average.